Anarkali Dress
Anarkali suit dress is an Indian outfit that originated in the Lahore the erstwhile Indian city.
It is knee-length skirt with a blouse, often made of light cotton, silk or wool. The top part of the dress has a draped neckline which is usually open at the back. The sleeves are long and can be either simple or puffed outwards. These days sleeveless Anarkali suits are in trend.
Anarkali suits are considered to be one of the most popular forms of Indian clothing. They are worn by women of every age group especially young women. Anarkali has an element of traditional or ethnic style of clothing,
The Anarkali suit dress has been worn and popularised by different celebrities such as Hema Malini, Madhuri Dixit and Kareena Kapoor Khan.
It is traditionally worn by women during festivals, weddings, and other special occasions. However Men also wear Anarkali often paired with Sherwani.
At TailorCue you get a wide range of Anarkali dress types to choose from. We take 3-5 days to stitch an Anarkali Suit. Cash on delivery available, go ahead and book your appointment.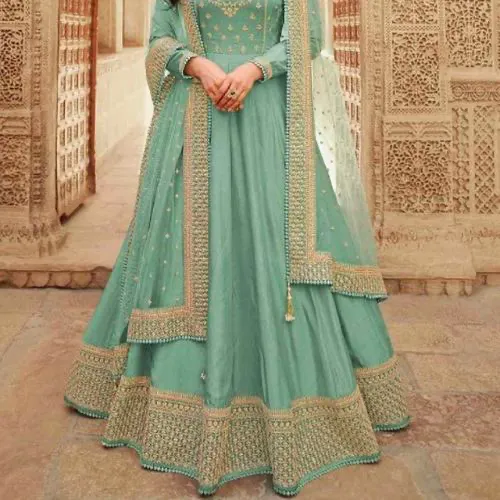 Indicative Prices  
Price for designer Anarkali suits with different fabric and style element will differ from the mentioned price. Final Quote after discussion with the designer.